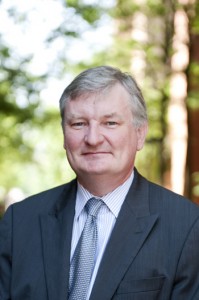 Dr. Philip Rous is Provost and Senior Vice President for Academic Affairs at the University of Maryland, Baltimore County (UMBC). He is responsible for the delivery of the academic program, including instruction, research, academic support services, and enrollment management, including admissions and financial aid.
Dr. Rous  joined the UMBC community in 1990 and holds the rank of professor in the Department of Physics. Prior to his appointment as Provost, Dr. Rous served as Dean of the College of Natural and Mathematical Sciences. As Dean, he provided leadership in creating the College's Active Science Teaching and Learning Environment (CASTLE), which is focused on new pedagogical models for actively engaged student learning.
Dr. Rous has a strong interdisciplinary background and the results of his research have been published extensively in materials science, physics, and chemistry journals. Most recently, Dr. Rous has played a leadership role in supporting research into innovative models supporting student success, through the HHMI National Experiment in Undergraduate Science (NEXUS), the NSF Innovation Through Institutional Integration award, and a planning grant from the Gates Foundation.